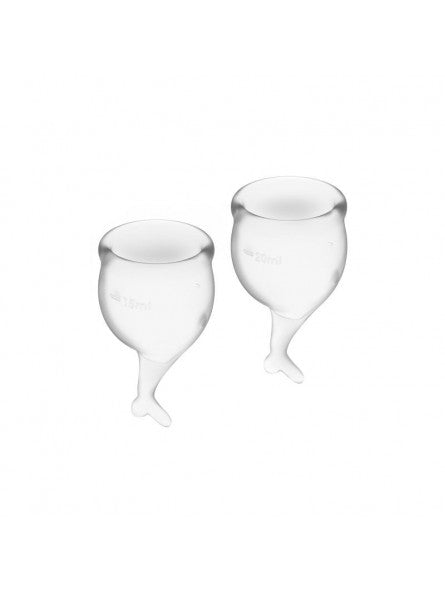 A Tease Adult Supplies
Satisfyer Menstrual Cups (First experience set)
We all know that the menstrual period is not usually fun between hormonal chaos, pain and mood swings, and if we add to that the stress that the tampon is not enough. The solution to all these problems is provided by Satisfyer with these menstrual cups, which are not only an ecological alternative for tampons or similar, but also simplify those days of the month.
The Feel Secure Set features 2 soft and pleasant to the touch medical grade silicone menstrual cups with 15ml and 20ml capacity. Its seamless design makes it very easy to use and its rounded cord makes it comfortable to put on and take off. Its medical silicone is flexible and adapts perfectly to your body and its curves, offering you safe and hygienic protection for up to 12 hours. Another advantage is not using tampons, which can affect your flora and cause small tears in the vaginal wall.
These cups are made of medical silicone. It does not harm the skin, it has great sliding power and great flexibility. Use a good water-based lubricant (N-206), whether you are using it for the first time or if it is poorly lubricated. Remember to clean your cup before using it for the first time, when you finish the period and every time you use it. One possible way to clean it is by boiling it, but remember that while you are using it with a clean water wash it is enough.
Features:
Pack of two cups - 15 ml - 20 ml
Medical grade silicone
Suitable for beginner and advanced levels
Elongated cord
Elastic and adaptable
Easy to clean
Use time: up to 12h
Suitable with water lubricants
Ecological alternative
---
More from this collection