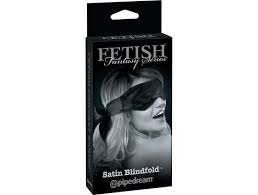 A Tease Adult Supplies
Fetish Fantasy Series Satin Blindfold
Heighten your sexual senses with this eye mask!
Silky smooth and flexible, this elegant blindfold gives you the comfort you need to relax and fully enjoy your naughty, intimate moments. With this eye mask, even regular sex play becomes extra exhilarating!
This satin blindfold features long, wide ribbon ties that secure the mask on you and allows you to customize the fit. 
This wide blindfold creates a total blackout so you can't peek at what your mate is doing to you. You can also use the mask on your captive to tease and please with sensual surprises!
As one of the leading sex toy manufacturers in the world, Pipedream provides sex toys and other essentials that turn your fantasies into reality. With over 35 brands and thousands of products, Pipedream offers thrilling adult toys to indulge every sexual desire.
Key Benefits:
Silky smooth eye mask that gives you luxurious comfort and helps you relax
Long and wide ribbon ties to customize your fit
Pliable eye mask for a better fit
Blindfold that completely covers your eyes or your lover's eyes - no peeking allowed!
A lovely accessory to add to your naughty play!
---
More from this collection