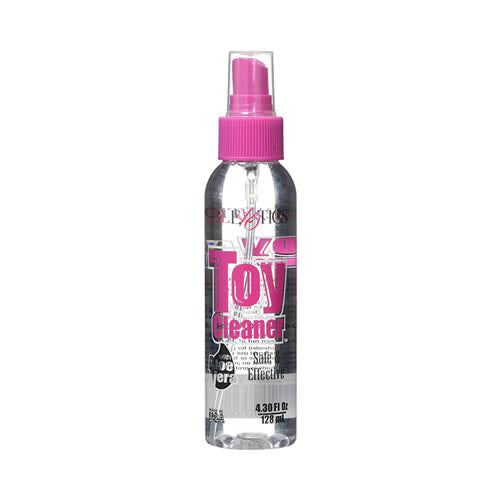 A Tease Adult Supplies
CALEXOTICS ANTI BACTERIAL TOY CLEANER WITH ALOE VERA
Extend the life of your intimate seduction toys with the Universal Toy Cleaner with Aloe. The universal toy cleaner is designed to fight bacteria and to maintain and prolong the function of your exotic vibrating stimulators, anal probes, and other exotic playtime accessories. The cleaner is supplied in a handy transparent plastic bottle, with aconvenient ergonomic pump action spray nozzle for direct application. Keep toys super clean, fresh and ready for action by cleaning regularly.
The non-sticky cleaner contains anti-bacterial ingredient Triclosan, which fights bacteria, and Aloe Vera. The easy to use spray cleaner improves the health and hygiene of your adult toys and maintains playtime function for your satisfaction. The cleaning formula is supplied in lightweight 4.3 Fl Oz/127 ml travel size bottles for optimal hygiene maintenance.To avoid spreading unwanted bacteria, fungus, mold, mildew or viruses is it important to properly care for your toys. Play safe by spritzing your toys clean before and after every use.
To use thecleaner, simply spray directly onto the surface of your favorite vibe, personal massager, anal beads and other toys. Use the anti-bacterial spray before and after intimate play. It can also be used during seduction sessions to refresh your toys. The versatile bacteria fighting, essential hygienecleaner, is a must-have accessory for your toy collection.