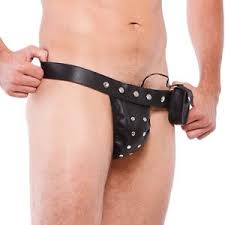 A Tease Adult Supplies
Fetish Shock Jock
Surround your sensitive spots with satisfying electro-stimulation for out of this world throbbing pleasure. A comfortable jock strap, the wired controller amplifies arousal (literally) by sending tantalising tingles through carefully placed metal studs.
 The adjustable waistband fits between 33 - 41 inches and is easily altered via snap poppers, while an elasticated faux leather pouch ensures you enjoy maximum contact and pleasure from 8 studded electro-conductors. Set the wired controller to "OUT" to experience widespread sensations in your most intimate areas, or switch to "IN" to use the control pad as ane-stim massager for external use.
Please note: Electro-stimulation toys should not be used above the waist, and should always be used with a good quality water-based lubricant or electro-conductor gel to aid conductivity and enhance pleasure. Includes 1 x CR2032 battery.
Key Features:
2-way e-stim jock strap for exceptional intimate tingling pleasure
2 speeds of pulsation in multiple intensities
Adjustable waist band fits between 33 - 41 inches
Multiple studs offer widespread sensation and arousal
Includes eye mask, 1 x CR2032 battery and wrist loop for quick set up and easy use
---
More from this collection