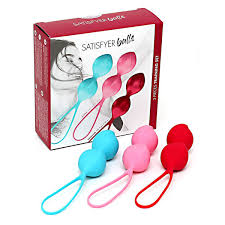 A Tease Adult Supplies
SATISFYER V Balls 3 pieces
Satisfyer love balls are a must for all the ladies. If you keep fit, you get more out of life and this also applies to your love life!
Thanks to Satisfyer Balls, you can train and get in shape for your own marathon of lust. Wearing the love balls for about 15 minutes a day trains your pelvic floor muscles - the muscles that enable you to experience breathtaking orgasms. This training not only benefits you, but also your partner, if you train your pelvic floor muscles, your partner will experience the ultimate sensation of tightness. These love balls will catapult you so quickly back into the phase of your initial infatuation, you won't be able to keep your hands off each other!
This set of 3  love balls are made of velvet touch super soft silicone with a safety silicone retrieval strap.

Easy to clean.

Diameter : 3.4cm, length 15.6cm
Weights:
Regular: 79.3g
Skilled: 114.1g
Advanced: 150.3g
---
More from this collection