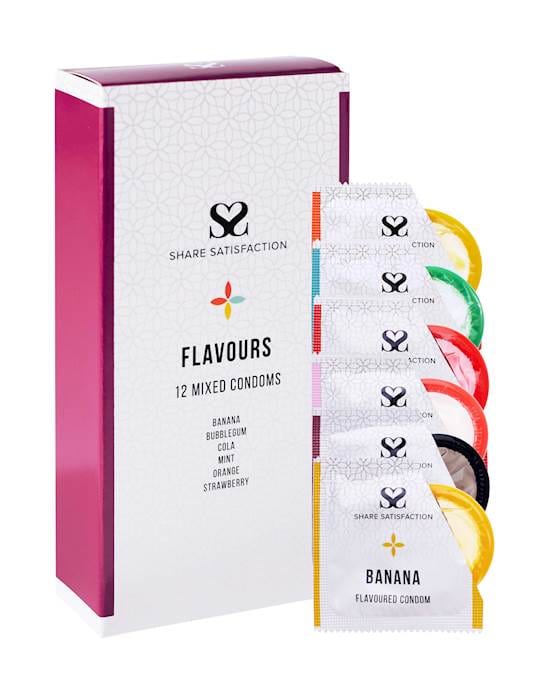 A Tease Adult Supplies
Share Satisfaction Flavoured Condoms - Mixed Pack of 12
Add some more flavour to your sex life with Share Satisfaction's Flavoured Condoms. Can't decide what flavour will satisfy your palette? With this pack of 12 flavours, you don't have to. Featuring a delicious mix of mint, bubblegum, banana, orange, strawberry and cola, there is a flavour to tickle all your tastebuds.
Prefer your condoms unflavoured? Click here for our range of unflavoured condoms.
Not only do these latex condoms taste incredible but they are also perfect way to help protect yourself during oral sex. Thanks to their sugar free composition, these condoms won't affect your body's natural PH balance. Designed primarily for oral sex, each premium latex condom is lubricated with 400mg of silicone lube to prevent friction and help with application.

Measuring in at 180 mm in length and 52 + 2 mm in width each condom is designed for a natural and comfortable fit for a wide range of penis sizes. Finished with a reservoir tip, these condoms are easy to apply and provide a natural feel for increased intimacy with your partner.