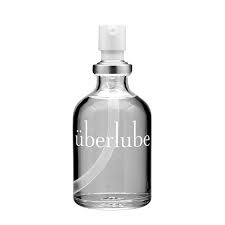 A Tease Adult Supplies
uberlube silicone lubricant 50ml
Uberlube silicone lubricant
 is a premium lube - designed so that it helps to enhance the experience of sex not just allow you to stay wet for longer.
Instead of just being slippery, the uberlube formula helps to transfer sensation while reducing friction helping couples feel closer and free from barriers.
The thin formulation of uberlube silicone lubricant ensures lovers can feel each other better upon contact because it doesn't form a thick barrier.
And, because Uberlube is so light, when friction stops the solution begins to dissipate leaving the skin feeling soft and moisturized and never wet or sticky.
Designed to be nightstand friendly, Uberlube silicone lubricant is packaged in a discreet and elegant glass bottle free from sexual imagery. This means it can be kept in plain view without any worries.
To ensure maximum peace of mind, this product is recommended by top US-based physicians, is used in many OB-GYN practices, is made with inert ingredients and will not harm healthy bacteria or affect pH levels when used on intimate areas.
Uberlube silicone lubricant has been formulated to be scentless, tasteless, non-staining, and never sticky, tacky or oily.
It is  silicone-based and biostatic. It will not harbour outisde yeast, bacteria or mould.  
---
More from this collection